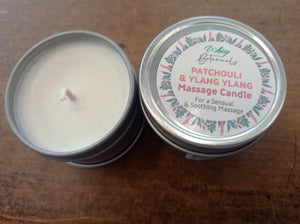 Massage Candle
Do you enjoy a relaxing massage but dislike the oily residue left on your body and clothes afterwards?
This blend of oils and Soy wax makes for the perfect sensual Massage Candle. Simply light and pour straight on to your partner (will not burn your skin). Re-light again and again when desired.
With the soothing feel of Avocado Oil and essential oils. Completely Natural & Eco friendly-using eco wicks and a reusable or recyclable Aluminium Travel tin.
Massage Candle - for a sensual and soothing massage
Small Burns for approx 10 hours. Large Burns for approx 20 hours.