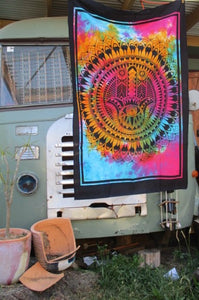 Hamsa Hand Mandala Tapestry
Regular price $60.00 Sale
Wanting something a UNIQUE, COLOURFUL & MEANINGFUL on your walls??
This 100% Cotton Tapestry is Made in India from a Ethical Source.
*Hang it on your wall   *Use it as a table cloth  *Sit on it at the Beach

The Arabic meaning of the word hamsa is five, and Hebrew shares the same root word. This number represents many associations adopted by various religions, including five fingers connected to the chakras, five senses and mudras, five pillars of Islam.
Size (Appox): 110cm x78
double- 200x200cm approx
Colours may vary slightly from photo. Please note there may be imperfections on these tapestries as they are all hand made in India.